Cold Laser Therapy Sessions
"I am the fur mom to a 12 1/2 year old Chocolate Lab named Harley. Last year my husband and I noticed she began to have a profound limp. I spoke to Dr. Kleiner about it and we decided to give laser therapy a try. We immediately began to see a difference in her ability to walk longer, jump up onto the bed again and simply be a happier dog. We have maintained a weekly schedule of consistent laser therapy for almost 5 months now, with a once a week treatment, and clearly we see the benefits. Harley has remained able to stay on a low dose of pain medication, and still can jump, play and even run like a pup some of the time! We are grateful to Dr. Kleiner for bringing this therapy into the mix and would highly recommend it to anyone considering using it. Harley remains a happy senior dog with legs that clearly feel better due to this wonderful addition to her care plan."
No Place Like Home is happy to offer cold laser therapy during our pet house call visits. Cold laser therapy is a non-invasive and drug-free medical treatment that uses low-intensity laser technology to promote healing and reduce pain.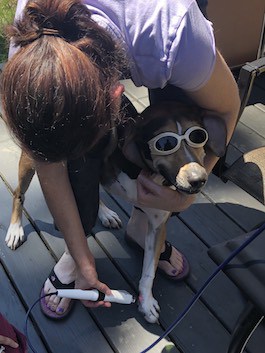 Laser therapy doesn't require surgery, often helps avoid potential side effects from medications that are no longer needed, and is a great option for pets experiencing joint stiffness or post-surgical pain. The low-level laser light emissions help reduce inflammation and stimulate cell regeneration. Laser therapy also activates the production of endorphins, which naturally help your pet heal faster and feel better. Patients receiving treatment will experience warmth and sometimes massage depending on the condition being treated
Dr. Kleiner provides cold laser therapy to treat a variety of acute and chronic medical conditions including:
Muscle sprains or ligament tears
Skin abrasions or wounds
Post-surgical incisions
Soft tissue trauma
Arthritis and tendonitis
Your pet won't feel any pain during the cold laser treatment, and because Dr. Kleiner performs the procedure in the comfort of your home, your pet will feel safe and relaxed throughout.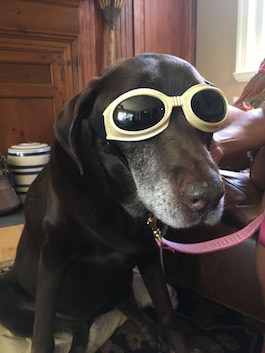 Depending on your pet's medical needs, the procedure takes approximately 5-20 minutes. Improvement is often noticeable after the first treatment, but we may recommend additional sessions to maximize the full benefits of laser therapy.
If you've noticed that your pet has problems with flexibility and overall movement, or is in post-surgery recovery and experiencing pain, a No Place Like Home Mobile Clinic cold laser therapy session may be beneficial.
Please schedule an appointment online and contact us if you have any questions.